Quality & SPC Expertise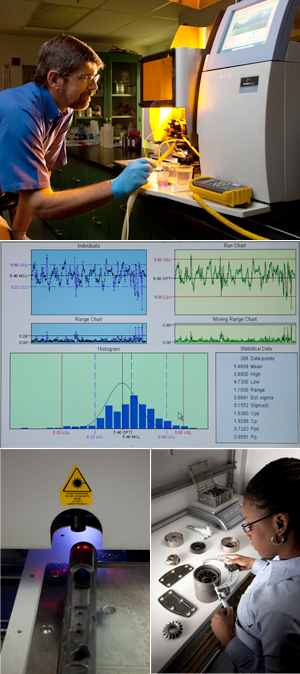 Statistical Process Controls (SPC)
We believe controlling process inputs yields controlled coating outputs. We have developed and use the most advanced process controls in metal finishing. There are approximately (90) parameters that are measured, controlled, and documented throughout our processes including; chemical mixing, chemical processing, coating qualities, and heat treatment. The frequency of measurement for each parameter is sufficient to guarantee adequate control.
Where practical our processes are automated. Control of the chemistry from which coatings are deposited is the most critical. Measurements are made frequently and chemistry replenishment is made continuously through automated equipment.
We work to customer specifications, not specifications imposed by us. For instance, when appropriate we ask that customers create engineering drawings dictating coating type, thickness, surface finish, hardness, and any other parameters required as well as the preferred inspection method.
A complete written material specification for our proprietary coatings exists and can be used to specify our coatings, and is frequently used to facilitate the generation of OEM internal specifications.  If we are supplying an industry standard coating it can be supplied per the appropriate standard.
If certification of conformance is required we can provide that once an agreement is made on what is to be certified and how.