UCT Coatings' is proud to announce that our Quality Management System has been certified as being in conformity with AS-9100. UCT has been audited and registered by Intertek as meeting the requirements for AS9100:D and ISO 9001:2015 standards.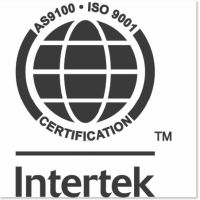 AS9100 was established by the aerospace industry in order to satisfy DOD, NASA and FAA quality requirements. The intent of the standard is to establish a single quality management system for use within the aerospace industry.
The standard is recognized worldwide, and the aerospace industry has moved toward requiring their subcontractors and suppliers to be AS9100 certified. By becoming registered to AS9100 UCT will gain a competitive advantage and benefit from the improved processes and continuous improvement that is the foundation of ISO 9001 certified Quality Management Systems.
Our Certificate Number is 98604-00 and the Certificate Expiry Date: February 4, 2023.
Click Here to view the Certificate of Registration.