Small Arms
You take care of accuracy. We'll take care of reliability.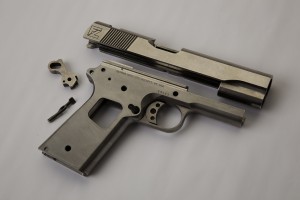 If you're a manufacturer of firearms or firearm components, UCT's proprietary EXO coating will enable your top-quality rifles and handguns to achieve extraordinary levels of reliability. 
Our EXO technology — thoroughly validated by commercial and governmental testing and by positive user feedback — creates a greaseless, permanently lubricious surface that's harder than the substrate itself. (In fact, EXO is 40% harder than chrome.) 
Unlike films, conventional coatings and applied lubricants, EXO never rubs off, thins out, spalls off, or builds up residue. Most remarkably, it can completely eliminate the need for lubrication in the actions of both semi- and full-auto firearms…while at the same time providing extreme protection against rust and wear. 
EXO Advantages
EXO enables your company to offer customers firearms that are: 
Easier to clean
Require no lubrication
Accumulate far less fouling
Resist wear
Resist corrosion and pitting
Withstand hot gases
Extreme Performance for Key Components
The EXO coating has demonstrated clear performance improvement in bolt-action, semi-auto, and full-auto applications. Among the components that benefit most from EXO coating: 
Bolts 
Bolt carrier groups
Barrel extensions
Charging handles
Compensators
Extractors
Firing pins
Hammers
Magazine followers
Suppressors
UCT Arms works closely with major firearm manufacturers, distributors, and gunsmith supply companies to make the EXO technology available on new-production arms and components. Consumers can also enjoy the advantages of EXO technology through our aftermarket FailZero drop-in kits for AR15/M4/M16 rifles. 
Government Application Development
Approved government accounting system
ITAR registered
FFL licensed
Secured facility
Security clearances
Recipient of Government supported development and commercialization projects since 2003.
SBIR qualified (<500 employees)
Learn More
To learn about UCT's AR15/M16/M4 and drop-in kits, visit…