Advanced coatings that create
an entirely new surface on critical components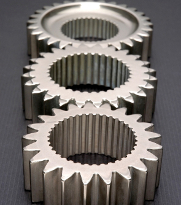 UCT Coatings: An Authority in Surface Engineering Solutions.
UCT provides wear-resistant, low friction, damage tolerant coatings that are uniformly deposited on complex geometry. Our production, engineering, and analytical capabilities are second to none in the electroless metal finishing industry. UCT is the originator of EXO, a patented, high-performance nickel boron coating that gives metal surfaces an extraordinary combination of hardness, abrasion resistance, and lubricity. We specialize in all forms of nickel-based coatings, including nickel boron (Ni-B) and nickel phosphorous. If you are an OEM seeking to upgrade the performance of your product, or an industrial end-user working to protect metal surfaces in your operation, turn to UCT.
Read More
---
Diverse Applications
Government/Defense
Tissue & Paper
Marine/Maritime
Oil & Gas
Small Arms
and Many More!